IWF: London's Upper Echelon of Women Leadership take bold steps into Inclusion and Diversity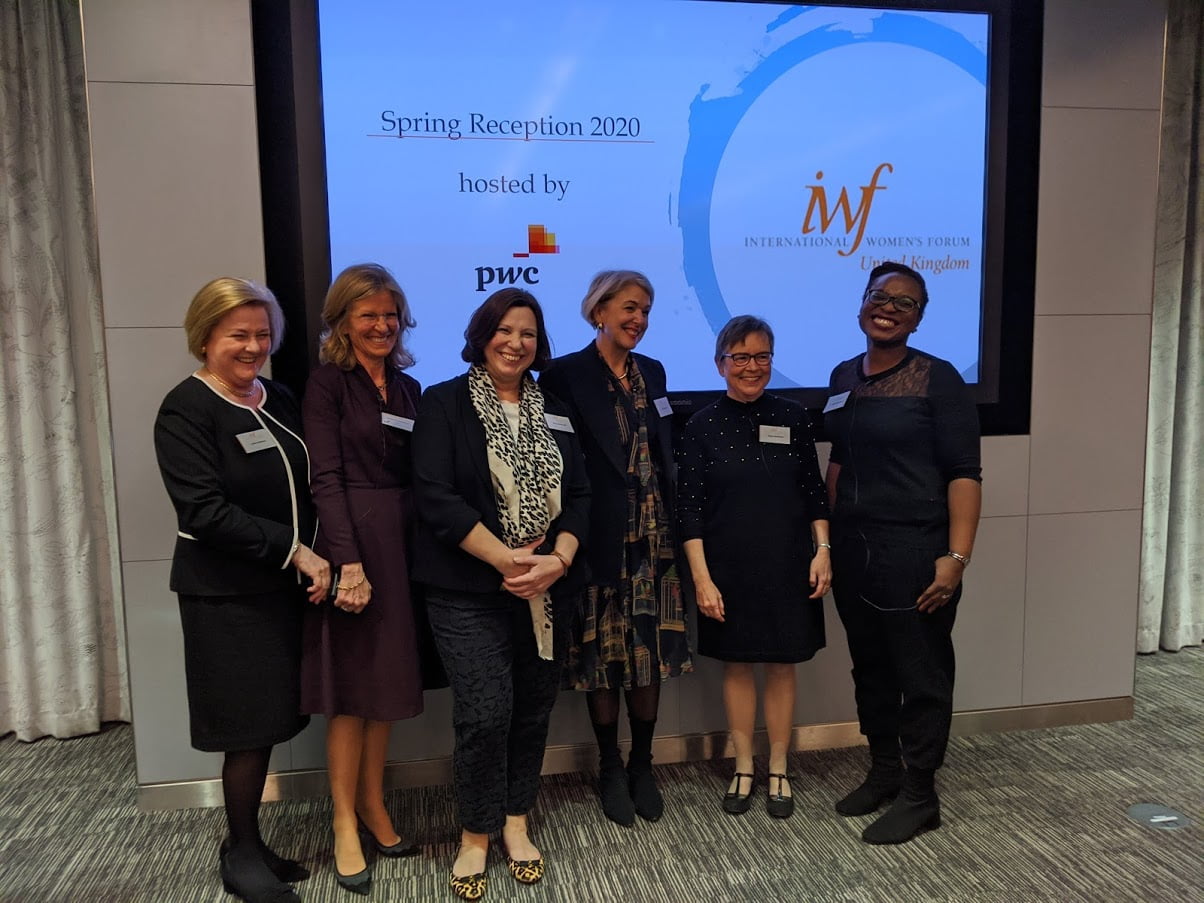 At the beginning of a month-long celebration of women worldwide, International Women Forum (IWF) UK Spring Reception brought together London's top women leaders, to action their determination to diagnose and close the gender gap in the boardroom culture.
Once upon a time, in New York City…
NYC was on the brink of fiscal disaster in 1974, and the New York Times poll showed the top concerns at the time: high unemployment rates, crime, drugs, cost of living, transportation and housing costs.
It is at this time when Elinor Guggenheimer (Civic leader and philanthropist), Muriel Siebert ( the very first woman to own a seat on the New York Stock Exchange), Eleanor Holmes Norton ( Delegate to the US House of Representative at present) and Muriel Fox ( a public relations executives pioneer, founder of NOW) decided that they will bring a much needed change and built the door into the executive realm for women leadership.
46 years ago, their goal was a very tall order "Bring together women of diverse accomplishments and provide them with a forum for the exchange of ideas and experiences. By thus becoming aware of their counterparts in all fields, and of mutual interests and attitudes, they can, when desired, speak in concert on issues confronting the total community."

Their vision took shape and developed ever since and The National Women's Forum officially became the International Women's Forum in 1987; at present 7000 members from 33 countries are making a contribution to the advancement of women globally.
Britain put the "I" into the "IWF"
Inspired by a visit to the US in 1983, The IWF UK is The first non-US chapter of the International Women's Forum and was founded by Mary Baker, Heather Brigstocke, Jean Denton, Barbara Hosking, Rosalind Gilmore and Katharine Whitehorn.
Jean Denton – Baroness Denton of Wakefield – was the First Chair who served from 1989 to 1992. (the first woman to hold a ministerial post in Northern Ireland in 1994 under Prime Minister John Major). The Jean Denton Lecture was initiated to celebrate her memory, and is a platform for inviting high-profile speakers to share their wisdom and knowledge, a women leadership elite including Baroness Valerie Amos CH, Dame Fiona Woolf DBE DL, and Professor Dame Carol Black, DBE, FRCP.
IWF UK Leadership Stories: Dr Neslyn Watson-Druée CBE
"Women are the largest untapped reservoir of talent in the world" @HillaryClinton honorary IWF member & Hall of Fame honoree.
To sparkle your imagination into this month-long celebration of women leadership worldwide, we're sharing IWF UK latest Leadership Story.
Dr Neslyn Watson-Druée CBE was a 19 years old Jamaican girl when she arrived in the UK. Little she knew that she embarked on a journey of prejudice and discrimination as this young black woman had to build a door herself to enter the Upper Echelon of Women Leadership to become a Senior Leader within the National Health Service. As the Chair of an NHS Commissioning Organisation, Dr Neslyn turned a loss of £21.5M into profit within two years. She had the courage to dissolve both the Executive and Non-Executive Boards and appoint a new Board. Dr Neslyn has been honoured three times by Her Majesty Queen Elizabeth II, an MBE for Nursing Leadership, Queen's Medal for NHS Innovation and CBE for Leadership in the NHS. She was presented with the Millennium Nurse Special Recognition Award at the Nurse of the Year Awards. The 25 Awards acknowledging her impact on society are just a silver lining for the future generations of women leaders as her contribution to the boardroom culture is priceless indeed.
"Leadership is about creating the space for others to be their best and to maximise their creativity, vision and emotional intelligence. Leadership includes influencing hearts and minds and doing the right thing. Leadership has to speak the language of the constituency to be culturally sensitive and appropriate. The message of the leader has to be acceptable and the message has to resonate." Dr Neslyn Watson-Druée
Inspired by the latest leadership Story from IWF UK Sovereign went along to the Spring Reception last night to see London's Upper Echelon of Women Leadership in action, making bold steps into inclusion and diversity.
The annual IWF Spring Reception hosted by Fiona Camenzuli and PwC UK last night at More London Riverside, had Inclusion and diversity at its heart.
Julie Goldstein, the Chair of IWF UK, in her opening speech announced that "the advancement of women leadership and championing quality in the world" are the core of discussions. For the rest of the evening, Alison Maitland (the Vice Chair of IWF UK) and her panel guests shared their experiences, knowledge, and ideas and engaged a vibrant dialog with more than 150 attendees on inclusion, diversity, equality and how to bring people together to promote women's leadership. (Following the government guidance on #Coronavirus, a few decided to stay indoors, avoid contact and miss this extraordinary IWF Reception.)
According to the UK Corporate Governance Code, issued by the Financial Reporting Council in July 2018 states that "Board appointments and succession plans should be based on merit and objective criteria, and should promote diversity of gender, social and ethnic backgrounds, cognitive and personal strengths."

Inclusion and diversity add real value to business culture and the bottom line and IWF UK panel raised the dialogue with IWF members last night. The discussion, which was open and honest, concluded that a lot more must be done for progress to take shape.